Three SC Students Awarded $6,000 in Seed Money For Winning Top Honors in State Business Plan Competition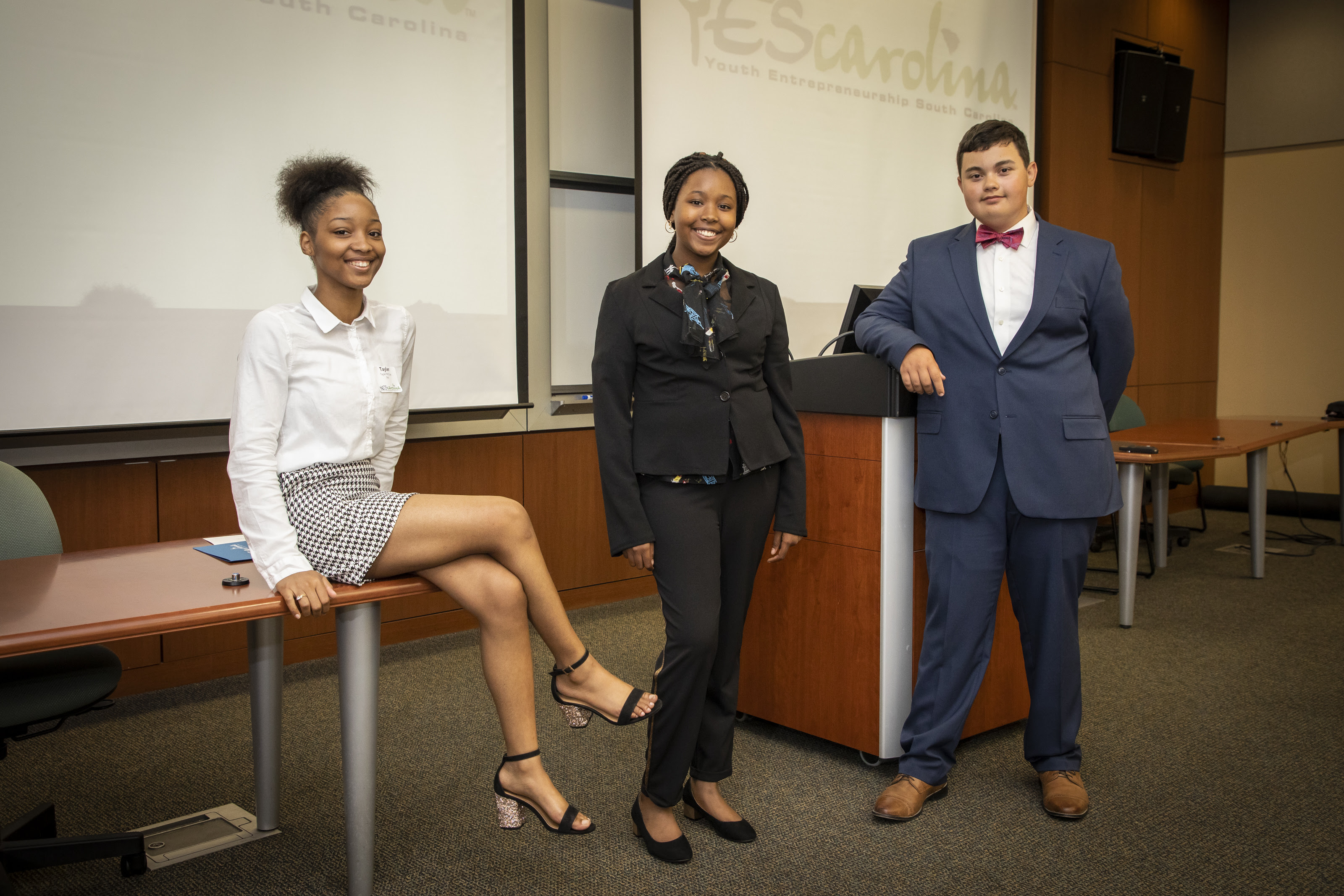 (Top 3 Finalists, L-R: Tayler Mccray, Burke High School; Tyra Jefferson, Heyward Career Center; Trey Evans, Ashley Ridge High School)
Charleston, SC — 
YEScarolina
's 8th Annual State 
Business
Plan
Competition
 was held at the College of Charleston School of 
Business
 on Friday, May 3rd. Forty-two high school students from across the state competed to win seed money for their businesses and a trip to New York City during this Shark Tank-style entrepreneurship 
competition
.
The 
business
plan
competition
, presented by the Mark E. Motley Foundation, began at 9am and was attended by students representing high school entrepreneurship classes from across the state. Through three rounds of
competition
, each student had an opportunity to present their 
business
plan
 for a chance to win seed money to launch their venture, as well as an all-expense paid trip to New York City.
The morning began with a welcome speech from College of Charleston School of 
Business
 Dean Alan Shao before students prepared for their first round of presentations. In between rounds of 
competition
, presenters had an opportunity to speak to attendees and fellow entrepreneurs about their businesses at the Student Expo in the Atrium. Teachers were also recognized individually after the first round. While judges deliberated to narrow the forty-two competitors down to fourteen, students gathered in the Wells Fargo Auditorium for a keynote speech given by Charleston entrepreneur and Callie's Biscuits founder, Carrie Morrey.
At 3:30pm, five finalists were announced: Thomas Shelman of Abbeville High School, Trey Evans of Ashley Ridge High School in Summerville, SC, Tayler Mccray of Burke High School in Downtown Charleston, SC, Tyra Jefferson and Chisom Emetu, both of the Heyward Career Center in Columbia, SC. They presented on stage in the Wells Fargo auditorium, in front of an esteemed panel of judges made up of Charleston 
business
 leaders that included owner of Butcher & Bee and The Daily and 
YEScarolina
 board member Melody Shemtov, Cofounder of Find My Path and 
YEScarolina
 board member Trey Tezza, Executive Vice President, Human Resources at Blackbaud and 
YEScarolina
 board member John Mistretta, President of the Deloache Family Foundation and 
YEScarolina
 board member Brittany Westbrook, and 
Business
 Coach and Executive Pastor Charlenia Snider.
WINNERS
1st Place | $3,000
Tyra Jefferson (c)
Tyra's Big World of Flavor
Heyward Career Center, Columbia, SC
2nd Place | $2,000
Trey Evans (r)
E&B Music Mouthpieces
Ashley Ridge High School, Summerville, SC
3rd Place | $1,000
Tayler Mccray (l)
Tayler Made It
Burke High School, Charleston, SC